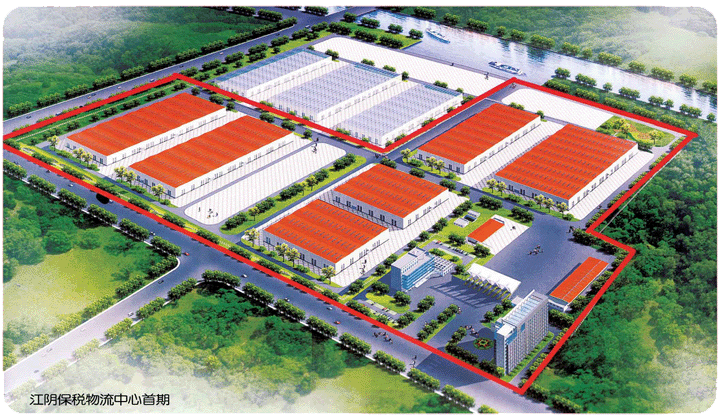 Jiangyin Bonded Logistics Center is the special area of special policies which is agreed from the State Council, and China General Administration of Customs, the Ministry of Finance, State Administration of Taxation and the State Administration of Foreign Exchange approved the agreement together.

Jiangyin Bonded Logistics Center is the only one ports closed fence region area in Wuxi (including Changzhou, Zhenjiang region) which to enjoy the B-type logistics policy, with the customs, commodity inspection functions. It enjoys the bonded warehouse, export tax back, bonded distribution, international procurement preferential policies.

Jiangyin Bonded Logistics Center is located in Jiangyin New Harbor City, it is north of the Yangtze River, close to Sunan International Container Terminal, relying on major roads Riverside Road, Harbor Road, convenient traffic and, through the Jiangyin Yangtze River Highway Bridge, Xicheng Expressway and along the Yangtze River Highway, Xinchang railway, transport by Land, River, and sea, so the logistics center has the good link up with its surrounding provinces and cities, such as Suzhou, Wuxi and Changzhou, Hangzhou-Jiaxing-Huzhou and the north of Jiangsu.

Jiangyin Bonded Logistics Center has three phases to build, the first phase of the fence area of 630 mu, with 120,000 square meters of bonded warehouses, 6000 square meters of bonded yards, 13,000 square meters of office space. And customs and Entry-exit Inspection and Quarantine Bureau the country were set up branches in the center, on-site office.